Innovative Production Techniques on Freeform's Good Trouble
When The Fosters ended its five-season run on Freeform in 2018 it was quickly followed by the spin-off, Good Trouble, which follows two of the Foster siblings as they embark on their young adult lives working in Los Angeles. "Good Trouble" debuted in January 2019 with its finale in April, and its second season launching in June. It is executive produced by the same team: Joanna Johnson, Peter Paige and Bradley Bredeweg.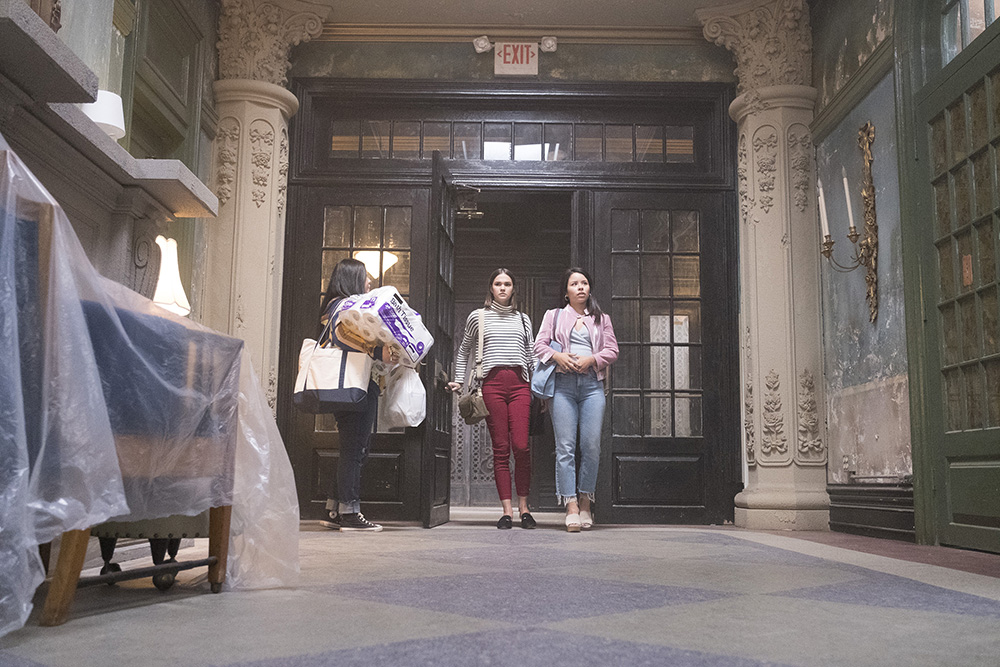 The new series takes place a few years after the events of The Fosters and finds Callie (Maia Mitchell) and Mariana (Cierra Ramirez) moving into The Coterie, a communal living apartment building above downtown LA's Palace Theater. Callie, a law clerk, and Mariana, a software engineer, navigate their new careers as they settle into their first apartment and meet new neighbors and friends.
The pilot was directed by Jon M. Chu (Crazy Rich Asians), with the subsequent 12 episodes helmed by Johnson, Paige, Bredeweg, Laura Nisbet, Michael Medico, Geoffrey Haley, Troian Bellisario, Kelli Williams, and Aprill Winney.
Good Trouble builds on the legacy of The Fosters as does the show's post workflow at Burbank's Keep Me Posted, a FotoKem company. While Keep Me Posted was familiar with the workflow, having serviced over 100 episodes of The Fosters, Good Trouble featured innovations that had new impacts on post production, notably using an LED videowall as a scenic backdrop and a high volume of cuts as a storytelling device.
REFRESHING THE LOOK
Good Trouble is shot at Santa Clarita Studios and at locations in downtown Los Angeles. "The Fosters was a classically shot drama, but the producers and creators of Good Trouble wanted the spin-off to be a departure," says director of photography Marco Fargnoli.
"They ditched a lot of the traditional rules of narrative storytelling and embraced the excitement of being in your early 20s in LA. The tone and texture of the show are a lot freer. We block a scene then look for a creative way to heighten emotion and intensity with slow motion, interesting framing, and hand-held shots. They encourage me and camera operators Nick Franco and Patrick Rousseau to take risks and create something organic, raw and alive. For a DP, that's a bit of a dream."
In addition, Good Trouble makes liberal use of flashbacks to fill gaps in storytelling and quick cuts to reveal what characters wish they could say before viewers see their actual responses. That means an excessive number of cuts than the average series – about 1,100 per episode. So, KM colorist Adam Hawkey quite literally has his work cut out for him.
"Our post workflow is pretty similar to 'The Fosters' with the big difference being the switch to a new camera, the style of shooting, and two to three times more cuts," says Hawkey. All VFX are created by Keep Me Posted Flame artist Randy Lowder who together with Hawkey had worked on four seasons of The Fosters.
For this season, Fargnoli opted for Panasonic Varicam LTs, recording in ProRes 4444, for the new show. "We use two cameras for almost every shot," says Fargnoli. "They're mainly on Fujinon Cabrio zoom lenses with Leica Primes reserved for specific emotional beats. If there's an emotional, very personal moment for a character we might switch to Leica Summicron Prime lenses and physically move in closer for more pronounced flare characteristics and more internal feeling."
One of the biggest technical considerations for Fargnoli was how to shoot The Coterie's rooftop set. "Translights and backdrops are usually seen through windows or shades and don't bear close scrutiny," he says. "But LED videowalls can be very convincing."
Fargnoli opted for the videowall solution for close-up work and for views looking up and down Broadway. A 100-foot Rosco Softdrop, printed with the actual view from the roof of The Coterie's Palace Theater, is used for wide shots; another 75-foot Softdrop, depicting the view from the fourth floor, is deployed on the interior apartment set.
For the LED videowall, Fargnoli shot backplates of Los Angeles with a Panasonic GH5 for all the possible rooftop angles. "It's great to be able to stay within the Panasonic family for our smaller cameras, since they use the same color science as the Varicam," he explains. He handed off the footage to Hawkey for color grading and VFX sweetening. Production plays back the footage on an LED videowall, provided by Background Images, behind the rooftop set's parapet.
"This is my first opportunity to use a high-density pixel videowall," Fargnoli says. "The LED videowall was scaled to fill the 16:9 frame and has a 2.5mm pixel pitch so I can photograph it directly, and it looks real. In television there's never enough time for VFX, so doing as much in camera as possible is the mandate of the show."
He also uses the LED videowall for car driving scenes, which are shot on the same stage replacing the parapet wall with a car. "There's no green spill from greenscreen, and we get actual interactive reflective lights for a better ambient feeling," he notes. "And the actors can see their real environment."
As much as Fargnoli enjoys using the LED videowall, he cautions producers that, "a videowall is not a magic bullet. It takes time and attention to get it right – as much time as setting up a rig for a process trailer for the driving scenes. But we can stay on stage, and once the right look is dialed in, we can proceed very quickly and capture pages of dialogue efficiently."
Fargnoli devised a "small-scale version of an LED wall" when he deployed a large, consumer-grade television as a backdrop for the on-set Coterie elevator. "The elevator on set is an iron cage with a glass door so you can tell when it's moving," he explains. "The writers saw the elevator on the set and started writing scenes for it, so we had to figure out how to illustrate a working elevator on stage. We created a visual gag creating a moving plate for the elevator's back wall and playing it back on the TV so we could capture it in camera."
FROM PRODUCTION TO POST SEAMLESSLY
While the first season monitored on set with Panasonic's standard V709 LUT, Fargnoli and Hawkey created a number of LUTs to apply to the different work and residential environments for season two. With offices adjacent to the stage, editorial begins cutting with the full res VLog ProRes4444 files, applying the customized LUTs and conform on Avid as one piece. Hawkey receives a ProRes 4444 mixdown without LUTs and an EDL for color grading on his Nucoda Film Master, which he has been using for the past 15 years.
"My goal is to maintain Marco's intentions in the grade," Hawkey says. "Marco gives me fantastic footage to start with. And the better the footage, the more I can work on the subtleties; I can actually be creative instead of just getting it all to match. For example, if there is a big wide shot, I might take down the exposure of some of the walls to add texture and help direct the audience's eye. This would have taken much more time to do on set."
"With so many cuts and angles and so much coverage this show is a real challenge to shoot and color," Fargnoli reports. "We move quickly, and I'm not always able to protect with lighting. But I know Adam has my back to smooth inconsistencies, add windows and control highlights and shadows."
A smoke machine on the loft set adds particulates to the air, which Hawkey picks up "as a bit of sizzle noise" in his grade, "but that's okay because it makes things seem more organic," Hawkey adds. "The effect takes the place of film grain for me," notes Fargnoli. "It keeps the images alive."
"The guys at Keep Me Posted have been really passionate about the show," Fargnoli notes. "They've addressed every challenge we've thrown at them, and elevated and expanded what we're trying to do on the set. It's wonderful to collaborate with people who are as enthusiastic about the project as we are."
Season 2 of "Good Trouble" began airing June 18, 2019.
###
Enjoying this article? Sign up now for the Creative COW Newsletter!
Sign up for the Creative COW newsletter and get weekly updates on industry news, forum highlights, inspirational tutorials, tips, burning questions, and more! Receive bulletins from the largest, longest-running community dedicated to supporting professionals working in film, video, and audio.
Enter your email address, a first and last name, and let us know what you'd like to see more of in the message!