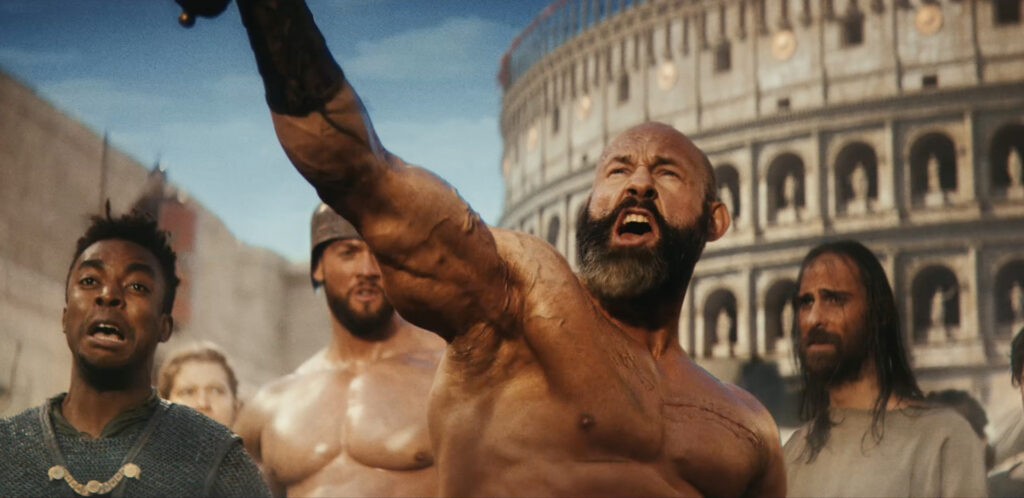 Cinematic Scope of 'Gladiator School' Spot Pays Homage to Blockbuster Film Genre To Introduce Jif 'Easier and Squeezier'
The Jif® brand continues to make clear creative bravery is a top priority, with the launch of a new commercial titled 'Gladiator School' under the 'That Jif'ing Good' campaign narrative.
Gladiator School features Jif's unique creative showcase style, which is a smart blend of quirky, irreverent humor, bold, theatrical tone and cinematic craft. The That Jif'ing Good campaign launch spots, Bunker and Squirrel, have been noted as stand out creative in the CPG category.
"We're excited to unveil this extension of our That Jif'ing Good creative campaign, which further illustrates the great lengths peanut butter lovers will go to enjoy the delicious taste of Jif peanut butter," said Christine Hoffman, Consumer Engagement Group Lead at The J.M. Smucker Co. "The Gladiator School ad takes the campaign to the next level, showcasing in cinematic fashion that our latest innovation, Jif Squeeze, needs no utensils to be enjoyed by even the biggest Jif enthusiasts."

"The Gladiator School commercial further accentuates our creative leadership in the category," stated Rebecca Scheidler, Vice President, Marketing of Jif. "Once again, we've blended the perfect mix of epic and irreverent, in a smart, entertaining and inviting message. We're delighted to extend the That Jif'ing Good campaign to our newest addition, Jif Squeeze."
Gladiator School once more illustrates just how far people might well go for the fresh-roasted peanut taste of Jif® peanut butter, this time, at a gladiator training school in Ancient Rome, just a stone's throw from the Colosseum. The spot pays homage to the epic style of the 1950s and 1960s Hollywood blockbuster films, with a spin on the classic tale of an overconfident student challenging his wise teacher…while casually introducing the easier and squeezier new pack, Jif® Squeeze.
"A peanut butter you don't need a knife to eat?! That's a pretty epic innovation. And in the world of the That Jif'ing Good campaign, epic innovations are met with equally epic, yet somewhat absurd launch spots," stated Andy Bird, Chief Creative Officer, PSOne.
"It's hard to validate a consumer insight from 65 BC, but we're pretty confident Ancient Roman gladiators would have killed to get their hands on Jif Squeeze," stated Erica Roberts, Executive Creative Director, PSOne. "It's convenient. It's delicious. And they wouldn't have had to get their daggers dirty to enjoy it. That's a win even by today's standards."
Gladiator School is created in partnership with Publicis Groupe's Power of One solution, PSOne, a bespoke agency for The J.M. Smucker Co. PSOne introduced the That Jif'ing Good campaign in late 2019 and the breakthrough #JifvsGif initiative in early 2020. The commercial was directed by Markus Walters from Reset in Prague.
Gladiator School Overview
Gladiator School is the latest installment in the That Jif'ing Good campaign which illustrates the great lengths people will go for the fresh-roasted peanut taste of Jif. The campaign's trademark over-the-top cinematic approach, plussed with a hyperbolic tone, might seem a bit extreme for a jar of peanut butter, but if you've ever eaten a spoonful of Jif – or now, a squeezeful — you understand.
This time around, we're at a gladiator training school in Ancient Rome where an arrogant, young student challenges his sage, experienced teacher. The fight is not for glory in the arena, but rather for Jif peanut butter. In the end, when all the student's swords, daggers, and even butter knives are broken, the teacher and his Jif Squeeze pouch reign supreme.
Gladiator School debuts today on national TV. The campaign will live across Linear TV, Premium and Programmatic Online Video, along with Paid Social and Paid Search, aimed at effectively reaching peanut butter lovers. The social assets across Facebook and Instagram, tease the campaign and play on the fact that peanut butter lovers everywhere can now enjoy Jif in an easier, squeezier format.