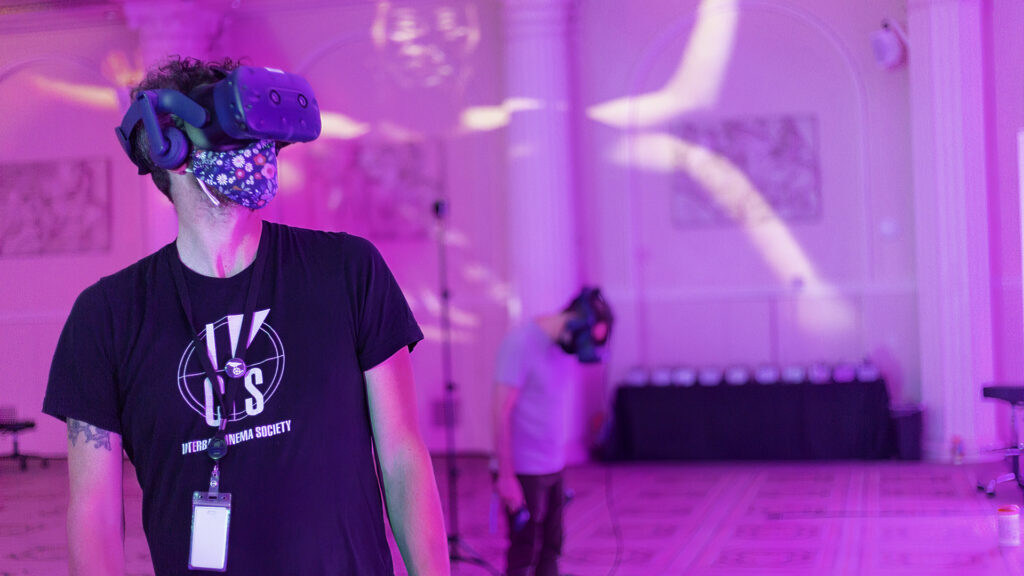 Venice Biennale's 'Venice VR Expanded' Returns to the Portland Art Museum
Dozens of exclusive virtual reality (VR) experiences will be on display. Tickets are on sale now for September 1-19, 2021.
For the second year in a row, the Portland Art Museum in Oregon and the Northwest Film Center will be the exclusive U.S. host for "Venice VR Expanded," the VR arm of the famed arts festival, La Biennale di Venezia (the Venice Biennale). The event will also serve as the official creative VR competition of the Venice International Film Festival. Tickets are on sale now.
Venice VR Expanded 2021 will offer attendees the chance to view 37 exclusive immersive VR projects. After selecting their choice of an Oculus Quest or an HTC Vive headset, users can experience the highly anticipated VR projects competing for the Grand Jury Prize for Best VR Work, Best VR Experience, and Best VR Story. The 2021 program in Portland includes 23 projects in official competition as well as 12 projects that represent the "Best Of" VR projects launched since last year's program, including one Biennale College Cinema-VR project.
"It is truly a time of new possibilities, where artists and audiences alike are not content to be contained," said Amy Dotson, Director of the Northwest Film Center and Portland Art Museum Curator of Film & New media. "We are so honored to continue to be the only U.S. venue for the Venice Biennale's VR Expanded Satellite Program, working collaboratively to share these cutting-edge artists' work and expand what is possible in the art of new media storytelling."
The Venice VR Expanded Satellite Program opens up the possibility for global audiences to experience Venice VR through partnerships with a number of prestigious institutions around the world, known for exhibiting VR artistic works. Portland will be joined by well-known galleries, museums, institutions, and VR leaders around the world, with satellites in Amsterdam, Barcelona, Beijing, Berlin, Modena, Montreal, Moscow, Paris, and more.
Following the success of Venice VR Expanded 2020, the Venice Biennale is collaborating with partners from around the world to extend the exhibition, offering more than two full weeks for attendees to experience the best from around the world. Many projects available for viewing are world premieres including:
● Exploring Home by Sara Lisa Vogl
● Spirit of Place by Dale Deacon
● Myriad.Where We Connect | VR Experience by Lena Thiele, Sebastian
Baurmann, Dirk Hoffmann
● The Last Worker by Jörg Tittel
● La Plage de Sable Étoilé (The Starry Sand Beach) by Nina Barbier, Hsin-chien Huang
The complete lineup can be found here.
Portland Dates and Times
The Venice VR Expanded 2021 experience will take place September 1-19 in the Fields Ballroom in the Portland Art Museum's Mark Building. Participants will reserve one-hour increments and select from 35 different virtual-reality experiences from a list of dozens, including some of the best animated, non-fiction, and creative storytelling work from around the globe. Portland's Mobile Projection Unit will once again transform the ballroom space through site-specific projection mapping.
Tickets are available for purchase online at the Portland Art Museum website for $35 per one-hour time slot. Portland Art Museum members and Northwest Film Center Silver Screen members receive a $5 discount. All selected VR content will be accessible to viewers age 14 and older.
An online description of the programs and experiences will be available before the event, and participants are encouraged to make their selections beforehand. The experiences will be delivered on both Oculus and HTC Vive headsets.
A Safe VR Experience
The Ballroom will safely accommodate 24 participants per hour. All gear will be thoroughly sanitized by the latest technology, Clean Box, which sanitizes and eradicates up to 99.9% of bacteria, viruses, and fungi in one minute. All participants will receive a fully cleaned headset upon each new use. For more information, visit www.cleanboxtech.com.
The Museum and Film Center have also partnered again with Joshua Alan Young and his team at Reflective. Reflective is a New York and Portland-based immersive studio specializing in custom development for all things related to virtual and augmented reality. They are part of the core team producing Venice VR Expanded in Portland. Additionally, the Museum has received support from HTC Vive, who has generously donated VR headsets for the festival.
For more information and updates about the Venice VR Expanded experience in Portland, keep an eye on the Portland Art Museum website. Learn more about Venice VR Expanded at the La Biennale di Venezia website.