New glTF Extensions Raise the Bar on 3D Asset Visual Realism
glTF extensions supporting refraction, color attenuation, and volumetric properties are already shipping in industry-leading viewers and renderers.
Today, The Khronos Group, an open consortium of industry-leading companies creating advanced interoperability standards, announces the public release of the latest set of Physically Based Rendering (PBR) material extensions for the Khronos glTF 3D asset format. The new extensions enable material properties such as refraction, color attenuation, and volumetric properties to be used by diverse renderers from real-time rasterization to production-class path-tracing. glTF is a flexible, royalty-free asset format from Khronos designed for efficient run-time transmission and loading of 3D scenes and models on a wide variety of platforms including web browsers, mobile devices, PC desktops and the cloud. Leading rendering engines such as Babylon.js, Google's Filament, and three.js already support some or all of the new PBR extensions, together with applications including Adobe's Substance 3D Stager, Dassault Systèmes 3DEXPERIENCE Platform, DGG RapidCompact and UX3D's Gestaltor.
"These enhancements to glTF's PBR model raise the bar for material compatibility between ray-traced, path-traced, and real-time rendering implementations. They enable more realistic assets including volumetric effects, while remaining inclusive of real-time engines and viewers. We welcome artists and developers to use these new features for their own 3D assets," says Ed Mackey of Analytical Graphics and 3D Formats PBR task sub group chair. "Khronos is now working on future PBR extensions including 'Iridescence' and 'Anisotropy,' and we welcome industry and community feedback."
Physically Based Rendering creates realistic results by modeling the physical properties of real-world objects. It enables developers and artists to create photorealistic 3D assets by controlling parameters that correspond to the physical properties of actual materials. The three new extensions build on and extend the existing glTF 2.0 PBR capabilities by adding refraction, volume-based absorption, and complex specular reflections.
KHR_materials_ior: Index of Refraction describes how light is scattered as it passes through an object. By enabling artists to control IOR values, a diverse range of transparent materials can be made to look more realistic, including air, water, eyes, glass, sapphire, and diamond.

KHR_materials_volume: The volume extension enables mesh surfaces to act as an interface between volumes and to enable more realistic refraction and absorption properties as seen in transparent materials. This extension gives translucent materials the appearance of depth and heft. For real-time engines incapable of ray-tracing, this extension also supplies a thickness texture map, to enable fast approximations of light interacting with a volume of material.
KHR_materials_specular: Specular properties are an object's mirror-like properties: its ability to reflect light regularly, creating coherent reflections of other objects. Unlike its predecessor KHR_materials_pbrSpecularGlossiness, this new specular extension operates within the modern metallic/roughness workflow at the core of glTF's PBR material model, enabling colored specular highlights compatible across the array of advanced PBR material extensions.
These extensions allow a wider range of scenes and objects to be represented realistically as 3D assets. For example, they enable artists to create more beautifully lit virtual photoshoots of products for e-commerce.
"Online shoppers increasingly expect realistic, beautiful product imagery to be part of their online experience — no matter what platform they're using," said Shrenik Sadalgi of Wayfair and Khronos 3D Commerce working group chair. "This latest set of PBR features is a game changer for retailers, especially those in style-oriented categories like 'Home', who need their product models to stand out with the most visually realistic materials. glTF has long been the most universally portable 3D real-time file format, and as glTF's PBR model matures, the power of 3D objects to catch consumers' eyes and capture their imaginations will only grow."
The newly ratified PBR extensions are already fully supported by the Khronos glTF Sample Viewer, UX3D's Gestaltor and by Babylon.js.
"glTF is used by diverse markets and applications, and so it is vital to prioritize the evolution of the specification to maximize market impact," says Brent Scannell of Autodesk and 3D Formats working group chair. "We are fortunate to have strong participation by leading companies deploying 3D assets in the real-world, such as Khronos 3D Commerce Working Group members, who are providing requirements, feedback, time, energy, and expertise to move glTF forward. These new glTF PBR extensions bring new levels of photorealism to pervasive devices and platforms, and there is more to come!"
Industry Support
"The new PBR Next extensions represent an important step forward in increasing the visual fidelity of portable 3D assets and improve interoperability with other shading models in the ecosystem. Autodesk is excited to be part of this initiative and supporting these extensions going forward".
— Henrik Edstrom, Senior software architect, Graphics technology, Autodesk
"From path tracing to GPU ray tracing to mobile rasterization, these new PBR Next extensions for glTF represent a step forward in interoperability for efficient runtime transmission of Physically Based Rendering materials. This interoperability will increase the availability of 3D content with PBR materials and accelerate the adoption of consistent PBR across rendering engines."
— Patrick Cozzi, CEO, Cesium
"Getting consistent renderings of shiny objects from real-time and offline engines has been an open problem for way too long. This problem was even more pronounced for realistic-looking transparent objects made from materials like glass, sapphire, or diamond. I am extremely happy that this second wave of glTF PBR extensions addresses this problem by introducing a state-of-the-art, yet widely acknowledged standard. This will turn out to be another fundamental cornerstone for reliable product visualization."
— Dr. Jan Meseth, holistic visualization technology director, Dassault Systèmes
"With our glTF output files supporting these brand-new PBR extensions, our RapidCompact clients are getting yet another step closer to the photorealistic quality they know from offline CGI… but now in real-time settings. It's quite exciting to push things forward together with Khronos, and to see how glTF is currently setting a high quality standard as the world's leading format for real-time 3D content."
— Dr. Max Limper, CTO, DGG and co-chair at Khronos 3D Commerce Asset Creation TSG
"These new glTF extensions allow us to visualize important material effects for products in a standardized way using real-time rendering – which used to be the sole domain of offline rendering. UX3D's Gestaltor supports these new material extensions to enrich glTF since day one of their ratification."
— Norbert Nopper, managing director, UX3D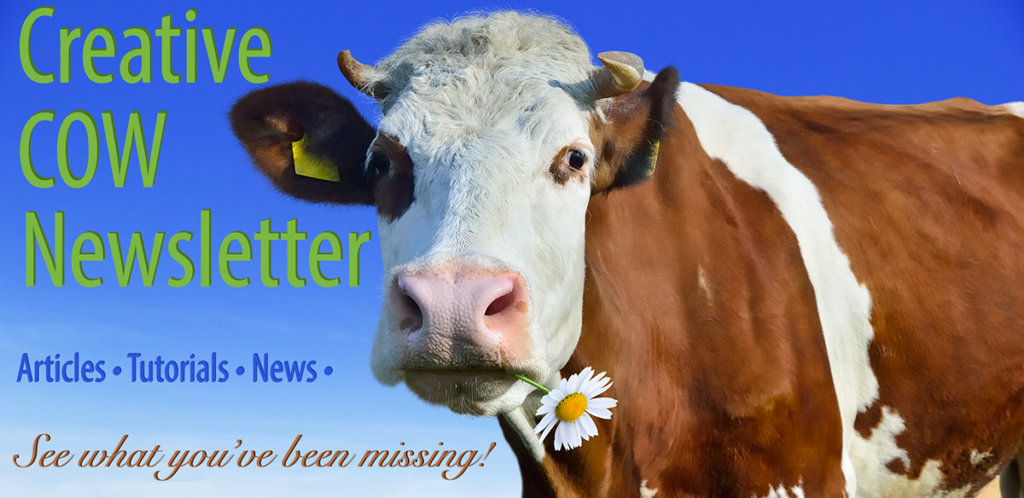 See what you've been missing! Sign up for the Creative COW Newsletter!
Stay on top of current trends! Get weekly updates on industry news, forum highlights, inspirational tutorials, tips, burning questions, and much much more! Receive updates from the largest, long-running community dedicated to supporting professionals working in film, video, and audio.
Enter your email address, a first and last name, and let us know what you'd like to see more of in the message!