Antonio Escobar Delivers Rich Dolby Atmos Soundscapes with Amphion One12 and One18 Monitors
Award-winning producer/composer speaks on expanding the sonic landscape and mastering the subtleties of surround sound for the home audience.
Antonio Escobar has made his name as a composer, producer and mix engineer on film and television projects around the world. From gentle family films like the Academy-award nominated animated short Klaus, to the epic scope of the recent Amazon Prime hit El Cid, his work has been recognized internationally for its range, versatility, and finesse. A major part of Escobar's professional output has been his work in surround sound, an aspect which has only increased as major streaming services such as Netflix have begun offering more content that supports Dolby Atmos. In order to ensure that he has total control of the sound field during the complex mixing process for surround sound, Escobar uses a mix of Amphion One12 and One18 monitors and matching Amphion power amplifiers to give him the clarity and accuracy he needs to deliver the ultimate surround sound experience on his projects.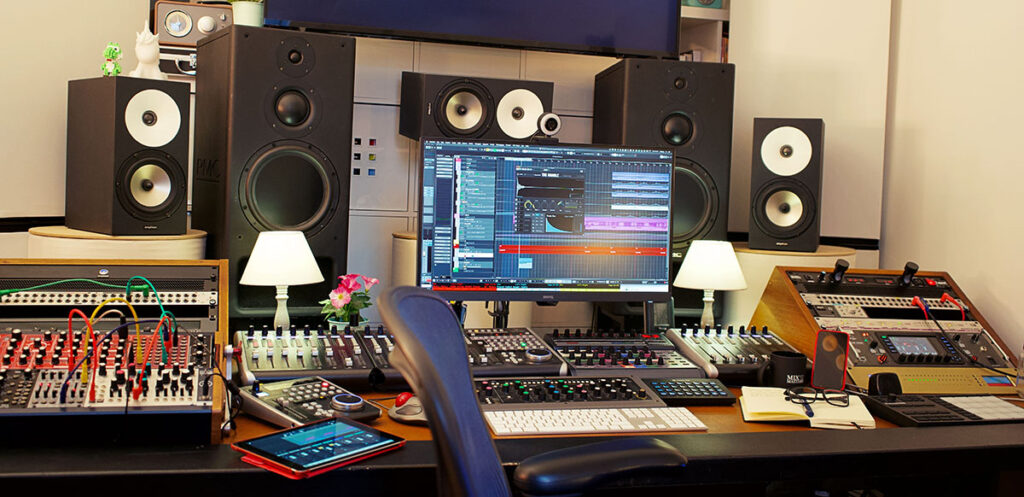 Creative immersion
Escobar has been working in surround sound for more than a decade and has seen firsthand how it has transitioned from something that was largely associated with theaters and big budget productions to television and home viewing. "I think for a long time people weren't sure how to make surround sound work in residential situations without a big setup at home," he explained. "Now that services like Netflix are streaming in binaural audio however, we're starting to see more demand for these kinds of mixes, and I think it's poised to introduce a wider audience to that kind of viewing experience."
Far from being focused on the cliches of surround sound however, Escobar has used it as a way to get creative with his scoring and how he can integrate it into the stories of the film and television projects he works on. "I love that it gives me the ability to create a richer soundscape without being invasive," he said. "I learned very quickly that you don't want to use surround sound to distract the audience – if they aren't focusing on the image in front of them then you are doing it all wrong."
"Instead, I see it as a way to master the subtleties of what I'm doing and really immerse the audience in the journey of the story and make them feel like they are truly traveling through what is happening on the screen. That's one of the reasons I started using Amphion because they give me the accuracy I need to place all the elements correctly in the sound field and really deliver on that premise."
Mixing for the journey
Escobar's setup is built around Steinberg's Nuendo/Cubase with Steinberg, Waves, Melda, Softube and Native Instrument plugins mainly, all running on a custom made Hackintosh. He uses a 24-channel Behringer XTouch system with an analog-style channel strip, typically Waves SSL 4K G and a console simulator, such as Waves NLS or Slate Digital's. For mixing in 5.1, 7.1., and Dolby Atmos, he employs a large setup of monitors anchored around three Amphion One18s and four Amphion One12s to give him an accurate picture of the sound field and the precision he requires to place elements in his mixes correctly. "Atmos mixes especially can be very complicated, so having monitors that are very honest and tell me exactly what I need to know quickly is incredibly important," he explained. "Once I started using Amphion I realized that it was very easy to locate everything around me and really dig into the space so I could get the most out of it."
"The One12s are very fast and accurate for this kind of work," he continued. "I also can get the most out of my delays and reverb tails in my mixes, to give me maximum flexibility on crafting the kind of space that's required."
Escobar says that he thrives on the creative challenges of surround sound, seeing it as an opportunity to continually grow in his craft and explore the possibilities of music both in terms of composition and sound design. His choice in tools plays a major part in that growth, and ultimately in the pleasure he gets out of bringing his work to life. "I'm in this business for the joy of music," he said. "No matter what project I'm working on, I want to enjoy the process of creation and ultimately in listening to what I make and hearing how good it can sound."
"That might be my favorite thing about my Amphions," he concluded. "They are really honest, but I can make the music sound good through them, and that's been my relationship with them from the beginning."
For more information about Antonio Escobar please visit http://antonioescobar.es/
For more information about Amphion, please visit: http://amphion.fi/