AJA Free Firmware Updates Bring New Features to Mini-Converters, Frame Synchronizer and more
AJA Video Systems has released Mini-Config v2.26.2, a free software update that introduces a host of new features for select AJA 12G-SDI, 4K/UltraHD and other Mini-Converter models, including Region of Interest scan converters, as well as the new FS-HDR v4.1 firmware update for its powerful, real-time HDR/WCG converter and frame synchronizer.
Mini-Config v2.26.2 introduces Extended Display Identification Data (EDID) emulation for all HA5-12G models, HA5-4K, HA5-Plus, ROI-DP, ROI-DVI, and ROI-HDMI, enabling the connected source to continuously output the desired video format. For pristine-quality audio workflows, the update extends pass-through support and compatibility with Dolby Digital Plus JOC (joint object coding) for HA5-4K and all HA5-12G models. Mini-Config v2.26.2 also delivers p60 to p59.94 and p59.94 to p60 simple frame rate conversion for 12GM, HA5-12G, HA5-4K, and HA5-Plus; loss of input management capabilities for the UDC and FS-Mini; and PsF support for 12GM, HA5-12G and Hi5-12G models.
"AJA's robust, production-proven lineup of Mini-Converters offers unprecedented workflow flexibility across a wide range of production environments, and with the new Mini-Config v2.26.2 update, we've introduced a selection of critical features that further streamline workflows and help users produce and deliver the highest-quality video and audio for a seamless audience experience," shared Nick Rashby, President, AJA Video Systems.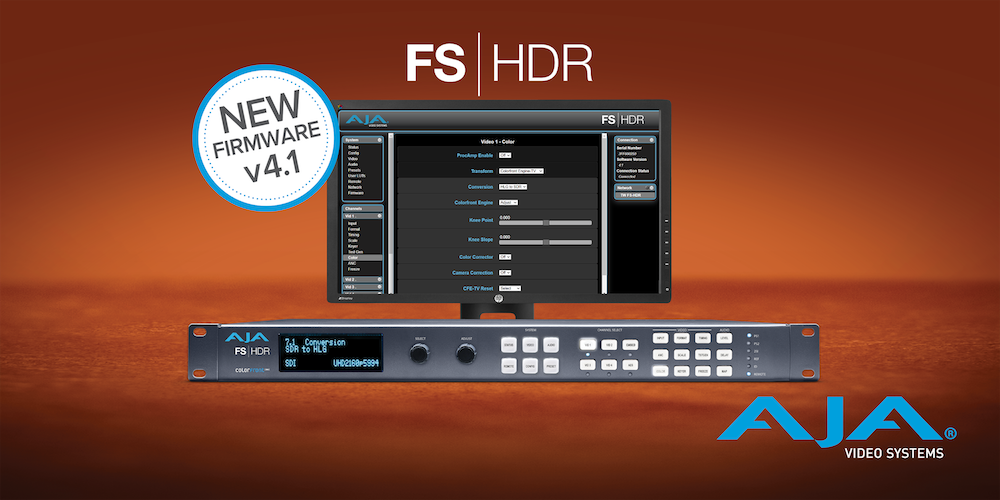 New FS-HDR v4.1 Update Introduces Increased Frame Buffer Depth, v1.5 BBC HLG LUTs, NBCU LUTs, Expanded Closed Captioning and Increased Ancillary Data Support
 Available today as a free firmware update, FS-HDR v4.1 features increased frame buffer depth from 6 to 20 frames, updated v1.5 BBC HLG LUTs, new NBCU LUTs, expanded Closed Captioning support, and a new ability to pass-through or translate critical ancillary data – even while performing a conversion.
During the pandemic, expanded use of augmented reality and virtual cameras that require additional processing time has surged for live productions, demanding longer synchronization periods for other sources. In response, FS-HDR v4.1 increases the device's frame buffer depth to support configurable delays of up to 20 frames. This free update is available to all FS-HDR users and does not require a hardware change.
For production professionals looking to simplify HDR workflows and take advantage of the latest BBC HLG LUT developments, FS-HDR v4.1 extends support to v1.5 BBC HLG LUTs. Newly released v1.5 BBC HLG LUTs add two new LUTs for direct mapping and up-mapping conversions for SDR BT.2020 to HLG BT.2100, and improved color saturation in display light HLG BT.2100 to SDR BT.709 down-mapping conversions.
FS-HDR v4.1 also adds support for new NBCU LUTs, developed by NBCUniversal Media, LLC, in collaboration with Cromorama to enable a workflow for single-master production of simultaneous HDR and SDR content with the highest quality possible. NBCU LUTs include SDR, HLG and PQ LUTs that maximize the dynamic range and color volume in HDR, without compromising core SDR broadcasts.
In response to industry demand and user feedback, FS-HDR v4.1 increases ancillary data pass-through or translation capabilities for a wide range of formats and conversions. In transmission applications requiring the use of SCTE-104 markers for ad insertion, FS-HDR will now automatically pass-through SCTE-104 packets. FS-HDR's new Timecode Xlator will pass-through or translate ancillary timecode (LTC, VITC1, or VITC2). Additionally, FS-HDR v4.1 expands the set of conversions that support pass-through of Closed Captioning.
"As HDR production and delivery workflows continue to evolve, AJA is at the forefront of pioneering new tools like this latest FS-HDR v4.1 update that help professionals achieve the most vivid and color accurate HDR and WCG content," said Nick Rashby, President, AJA Video Systems.
"As sports fans have come to expect a more dynamic, interactive experience, augmented reality (AR) is quickly becoming a common production addition, but one that requires tons of video processing. Since we already had a number of FS-HDRs in place, we talked to the team at AJA about our need for an increased frame buffer on the device to support these workflows, and with FS-HDR v4.1, they've delivered," shared Brad Cheney, VP, field operations and engineering, FOX Sports. "AJA's commitment to innovation and its user base is evident via substantial firmware updates like FS-HDR v4.1, which brings more value to customers without requiring new hardware and helps them stay ahead of evolving production requirements. We've already applied FS-HDR v4.1 to our MLB productions, and look forward to integrating them across the board into our basketball, football and motorsports productions."
Pricing and Availability
Mini-Config v.2.26.2 is now available as a free download from AJA's website: www.aja.com/products/mini-config-software. For more information on AJA's full lineup of Mini-Converters, visit: www.aja.com/family/mini-converters.
FS-HDR v4.1 is now available as a free download from AJA's support page. For more information, visit: www.aja.com/products/fs-hdr.